Does cycling in a skirt make you a motoring hazard?
article
.
Jasmijn Rijcken was stopped and almost ticketed by an NYPD officer for biking in this outfit. Her skirt, the officer said, was too distracting for drivers.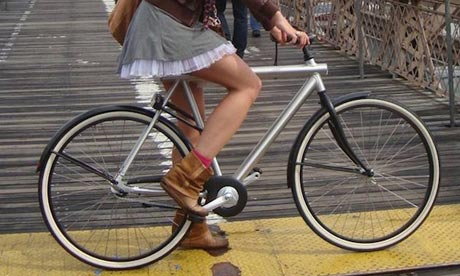 Me, I think it's worth it.
I'm only half kidding. We could drop traffic deaths to zero by banning motor vehicles, but it seems everybody agree that the convenience is worth hundreds of thousands of deaths every year. That's what it is, isn't it? So clearly while human lives are valuable, the value is far from infinite.
A reader, Anna, said:
Actually I had this thought when they put huge posters (ads) on the wall of a house with a woman in underwear on it just at a place where the driver needs to turn. I think that is dangerous, and it is aimed at distracting the driver! Those could be banned. But I guess they bring money, so they are not bothered. :)
Indeed, one often sees how flexible ethics really are when money suddenly enters into an equation!