Update:
this article
gives reasons to use a Leica M9 camera. I put it in here because I feel that the the X100 is "the poor man's Leica". The mechanical-ness of it, the high quality, the rangefinder-like finder, etc, is much like a Leica. There may ultimately be a quality difference, but then a Leica is much, much more expensive. And doesn't have autofocus.
------
It seems the Fujifilm X100 (what a boring name though*) continues to be a hit. It is being delivered now, but I haven't got mine yet. My supplier bemoans that they got one shipping already, but the number feel far, far, far short of the que they have for the camera! (And you had to put up a deposit, so these are serious orders too.)
He also told me it looks and feels great. Something which actually had not motivated me yet, perhaps because I never was a rangefinder user/fan.
But it strikes me that this is actually the fulfilment of a plea I have written here at least twice in the past six years: I wished for somebody to make a compact, yet top-notch quality camera, which looked and felt great and delivered super quality images.
Oooh, I
found it
! In 2006 I wrote:
But there is one camera we don't quite have yet: the super-quality street- or travel-camera. I want something with the mechanical quality of the Zeiss Ikon or the Leica M, or the Contax T2.
I want something with compromise-free mechanical quality. Something for lovers of excellent tools. I want it to be compact and leightweight like the original Ur-Leica seventy years ago, or Olympus OM-2, or maybe even Rollei 35. ...
I want it to be really fast. Top speed and reliability of the autofocus.
An excellent imaging chip, of course. And a great lens. It does not even have to be exchangable or a zoom lens. Just a really good one. And wideangle.
And here we are! Only five years later, could be worse. (I'm not sure about the speed of the X100, but it can't be bad.)
Update
:
Somebody has imagined a black one. That looks nice also!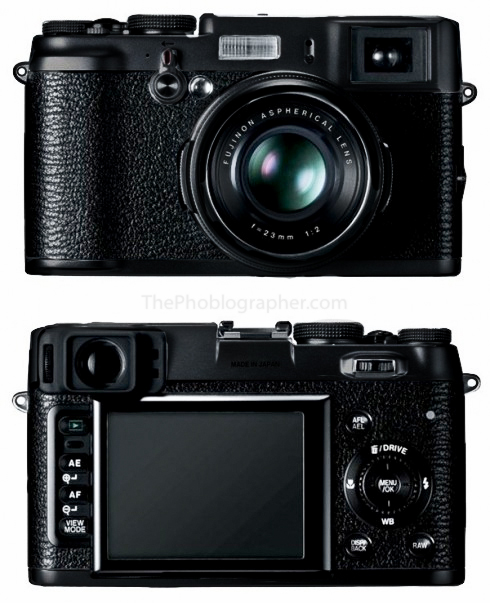 * Why can't the Japanese think up good names? It's not hard. The Fujifilm... MetaScope... SteelBird... RangeClassic... Finnigan'sWake... LimitBuster... RetroFuture... FantaOptic...