Zooey Deschanel's Rimmel Ad: Too Retouched Or Just Right?,
article/poll
.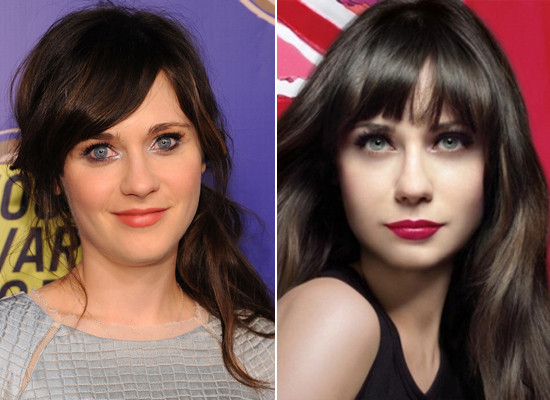 A commenter, Christine F, wrote
elsewhere
:
Changes made to Zooey include:
Colorizing - both tinting her eyes aqua green to provide the correct contrast with the fushia make-up (her actual eye color is pretty grey-blue), and airbrushing all of her skin to a solid matte cool tone (her natural skin color is more peachy)
A nose job - her nose was both narrowed and bobbed by editing shading on the underside
Chin job and neck job - her chin line was made more square than it is naturally, and her neck was thinned, this was accomplished by darkening "shadows" vertically down her cheeks and neck, and then drawing in the chin they wanted her to have.
It's a bit weird when people become unrecognizable in an ad or mag photo shoot. Like any eccentricity is upsetting, or their personality had nothing to do with their success.